Visiting Northern California's wine country is an extremely popular trip that is atop many people's agendas, whether it's a week-long vacation or perhaps during a long weekend or at the holidays.
The Napa Valley
, which is about 50 miles northwest of San Francisco, has more than 400 wineries dotting the spectacular rolling hills. Spending time in wine country means touring vineyards, visiting tasting rooms, and enjoying the fine dining in many restaurants in the charming cities and towns of Napa County.
Whether you call Napa Valley home or are here for the weekend, you'll have myriad ways to explore this gorgeous landscape and all of its offerings.
For instance, you can float high above wine country in hot air balloons, get close to nature by taking a horseback ride over trails and past vineyards, take a tram up to a vineyard, and even tour the beautiful countryside behind the wheel of an expensive sports car. These are just some of the many different ways people can enjoy seeing wine country and getting to the various tasting rooms where visitors enjoy those wonderful reds and whites.
Hot air balloon ride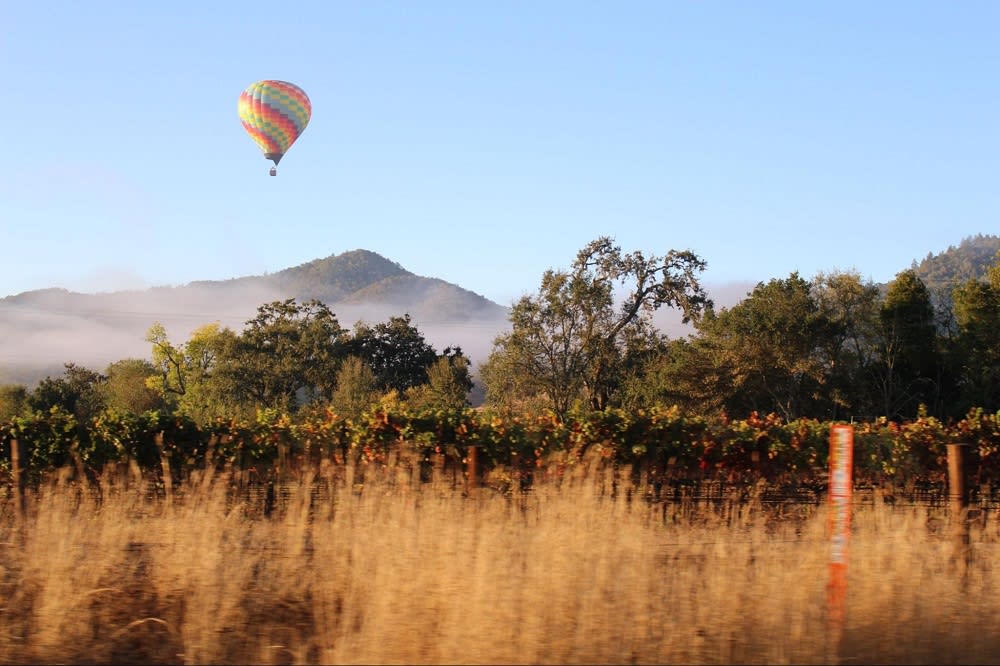 The most breathtaking way to get your bearings on wine country is to float high above the vineyards in a gondola slung under a massive, colorful, hot air balloon. There are several companies that offer these thrilling rides, including some with fun names like A Grape Escape Balloon Company and Uncorked Tours.
Whether floating silently above the vineyards at sunrise or sunset, there are many options available and bookings are available online. Once you take one of these incredible rides, you'll want to do it again on your next visit to wine country.
Horseback riding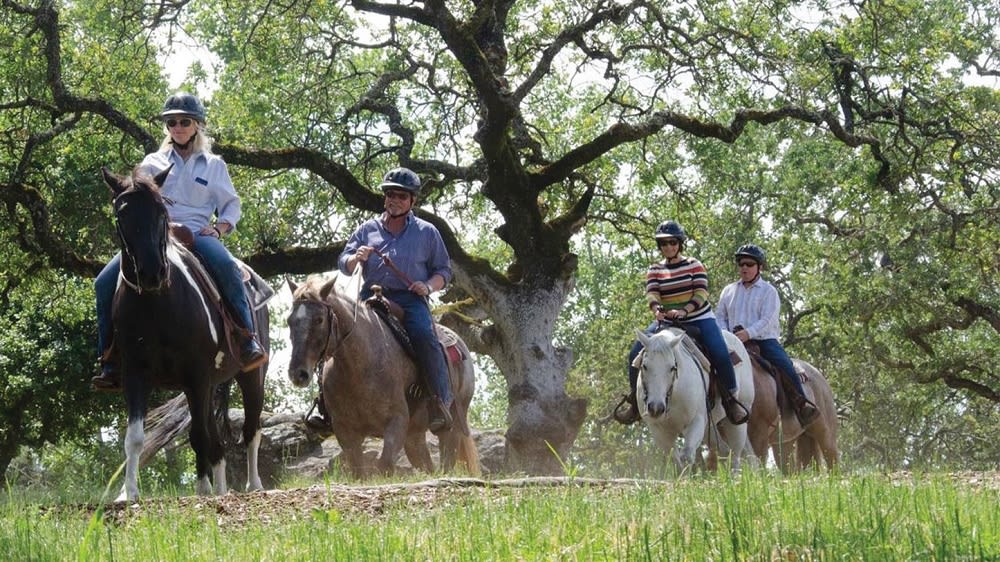 Credit: Napa Valley Trail Rides
Even residents of Napa Valley houses like to act like tourists and enjoy one of the most rustic, enjoyable ways to see wine country, on horseback. There are many companies that offer horseback rides among the vineyards and along the rolling hills, followed by wine tastings and dinners in gorgeous outdoor settings.
One of the companies is
Trail Rides and Terrace Tastings
, which allows guests to enjoy a horseback ride under the pleasant, warm sun, and then relax with a pairing of estate wines accompanied by plates of cheese, charcuterie, spreads, fruit, and nuts.
The Triple Creek Horse Outfit offers guided horseback among vineyards and through groves of massive redwoods at both Jack London State Historic Park in Sonoma Valley and Yulupa Mountain Ranch in Bennett Valley. Various rides are available, and you can choose an option with a tasting or without. There are also dinner packages available.
Ride a wine train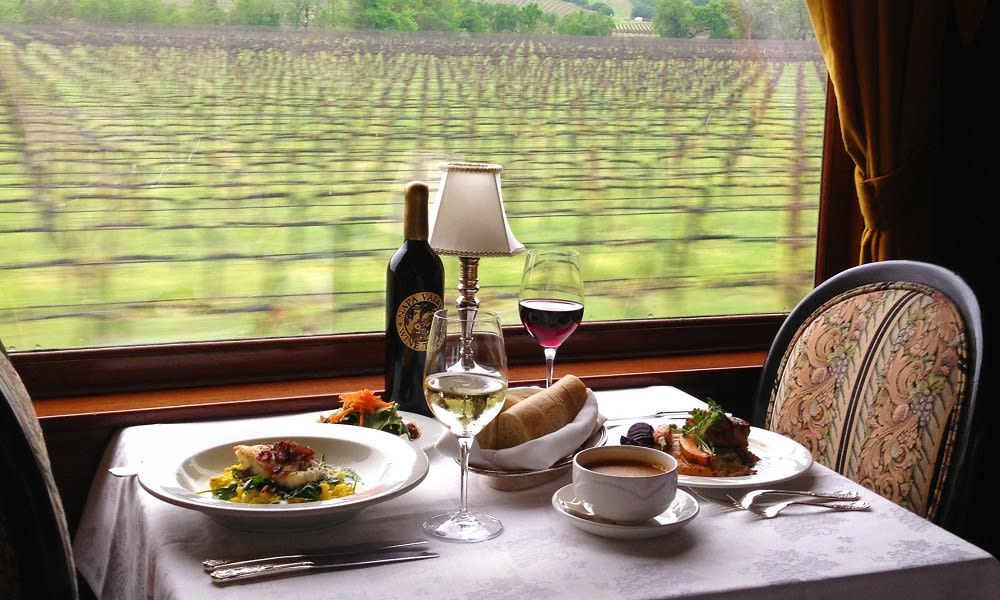 Credit: Napa Valley Wine Train


Another blast from the past is to take a ride on either the Sonoma Valley Wine Trolley or the Napa Valley Wine Trolley, both of which spirit visitors around the area in a replica of a turn-of-the-century streetcar. These tours, which last all day, visit a handful of the best wineries and serve a gourmet picnic lunch.
A truly romantic experience awaits those who book a spot on the
Napa Valley Wine Train
to enjoy either lunch or dinner while riding the rails through the gorgeous landscape.
VW bus tour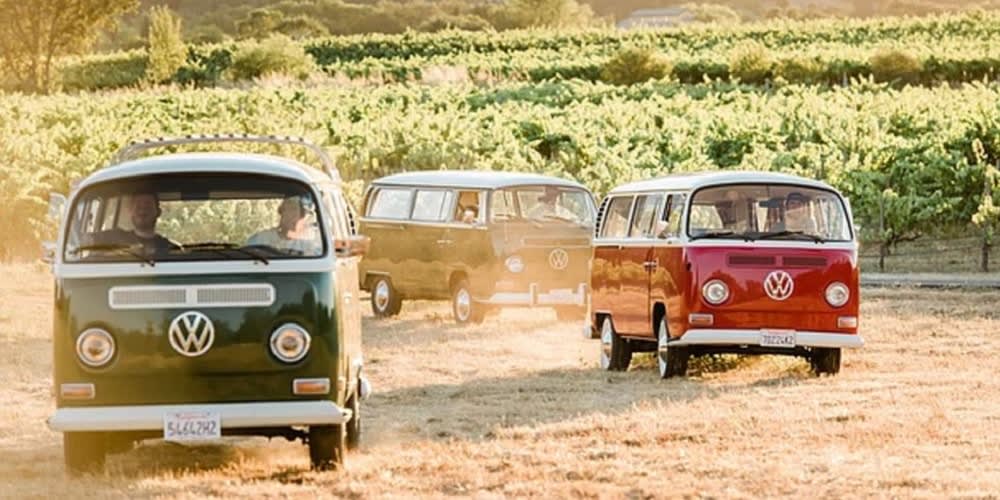 Another fun way to see wine country is to take a trip in one of
West Wine Tours
vintage Volkswagen buses that evoke the spirit of the 1960s. It's so much more fun to soak up the sights and tastes of the Napa Valley when someone else is doing the driving. These tours last about five hours and stop at a handful of different wineries. Seats can be booked by individuals or by groups, and your tour guide will even pick you up.
Two-wheel tours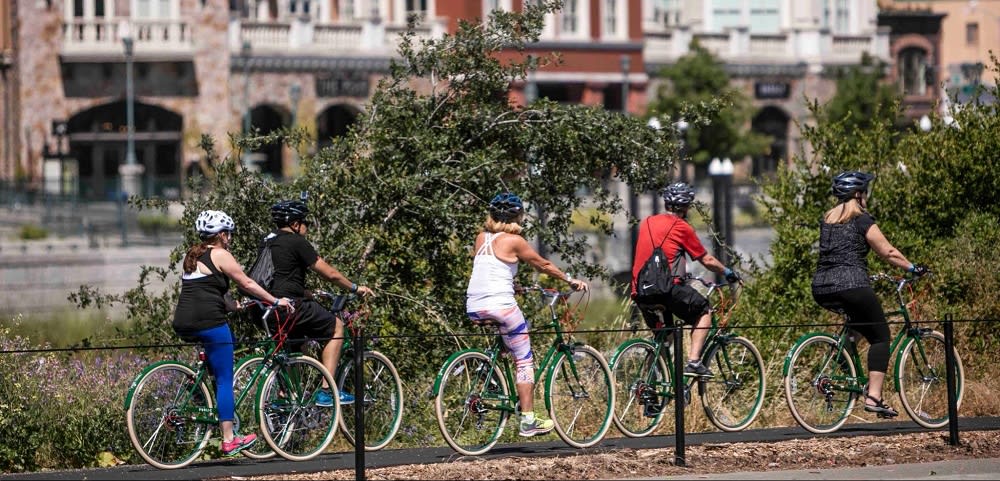 Credit: Napa Valley Wine Trail
Every form of transportation is covered in wine country. Bikers and hikers can get their daily dose of exercise and stop off at tasting rooms along the paved
Napa Valley Vine Trail
that is closed to cars. The first phase of this trail opened in 2016 and residents of Napa Valley houses enjoy the stretch of 12 ½ miles of the path from Yountville to South Napa. It eventually will stretch 47 miles and connect the entire Napa Valley, from Calistoga to Vallejo Ferry, which connects visitors and residents to the rest of the Bay Area.
You can ride your own bike or rent them from Napa Valley Bike Tours. Among the wineries along the way are Domaine Chandon, Laird Family Estate, and Silenus.
The trail is the brainchild of the Vine Trail Coalition, which is formed by the Napa Valley Vintners, Napa Valley Grapegrowers, and the Land Trust.
Sports car tours

For those who like RPMs, a handful of companies offer the chance to drive exotic sports cars on the winding, two-lane highways that Napa Valley is known for. Among the cars available for 30-minute or hour-long drives for various prices are Ferraris, Lamborghinis, or McLarens. Drivers are allowed to take one passenger along for the thrilling ride.
Skydiving

Another aerial adventure high above Napa Valley to book a skydiving trip through NorCal Skydiving, which leaves from the Cloverdale Airport. Skydivers of different experience levels can be dropped from any height ranging from 8,000 to 15,000 feet. There are also tandem jumps and a freefall program that eventually leads to solo jumps.
Tram ride
Sterling Vineyards is currently closed in order to repair its terraces, tasting room, and tram from damage sustained in the Glass Fire. Once it reopens, visitors will once again be able to take an aerial tram ride to 300 feet above the valley floor in order to enjoy both amazing views and wine.
These are just a sampling of unexpected things to do in wine country, but there is so much more to explore — no matter the season. If you are intrigued by the prospect of owning Napa Valley real estate, contact
Kathleen Leonard
for world-class service and local expertise.