The price of median home sales is on the rise across the U.S., and
Sonoma Valley real estate
is no exception. Back in 2016, median home prices in Sonoma Valley were steady in the $575,000 range. In 2020 and 2021, prices saw a large spike, and the median sale price hit $645,000—an increase of 12% over four years. In July 2021, it was $780,000, an increase of an additional 21% in sixteen months.
If you own real estate in Sonoma Valley, you've recently seen a nice bump in the equity of your property. If you're hoping to further improve the value of your home, the tips below will help you take full advantage of Sonoma's hot market and achieve a higher return on your investment (ROI) when selling your home.

Bathroom updates

The bathroom is an area of the home where small improvements can make a big difference in terms of ROI. Take the
shower door
, for example. The shower door takes up a lot of space, and replacing it with a modern door helps update the entire room. Glass doors allow more natural and overhead lighting to filter through the room. Upgrading the hardware and fixtures in the room will make the entire space feel new. Small details like these are affordable, quick to install, and can make a big difference in the sales price of your Sonoma Valley real estate. Putting tile or marble all the way to the ceiling is a popular choice in the current market. Use subtle patterns and textures to turn your bathroom into an expressive, artistic space within your home.

Kitchen updates

If you're looking for Sonoma Valley homes to use as an investment property, remodeling the kitchen to achieve an open layout (preferably with an island) will make your home more popular with prospective buyers. Homeowners are using their kitchens more than ever, and it's an inherently social space within the home. Buyers want a kitchen not just for cooking but for family gatherings, entertainment, and working from home.
Moody kitchens with dark colors are trending right now, although you run the risk of buyers not appreciating the palette you choose when you go with a statement color. The best ROI when remodeling and painting your home comes from sticking with neutral colors. Add splashes of color to areas that can be easily changed, such as linens and table decor.
Marble and tile
are hot right now and are a trend that's likely to stay popular in the future. Taking a traditional backsplash and extending it to the ceiling protects your walls, makes the space more functional and easier to clean while also providing a stylish accent.
Exterior updates
Landscaping is a surefire way to catch the eye of potential buyers. Whether you plant new trees or bushes that can take years to mature or opt to spruce up the flower bed with perennials that will delight for seasons to come, revamping the exterior of your home can make or break the first impression your property makes.
In addition to foliage, replacing the
garage door
can make a big impact and provide a dollar-for-dollar return. The garage door often takes up a large portion of the visual space on the exterior of your home. Replacing it can change the look of the entire façade.
If the property needs new siding or paint, be sure to have it completed before listing it. You'd hate for prospective buyers to pass because of a lackluster curb appeal.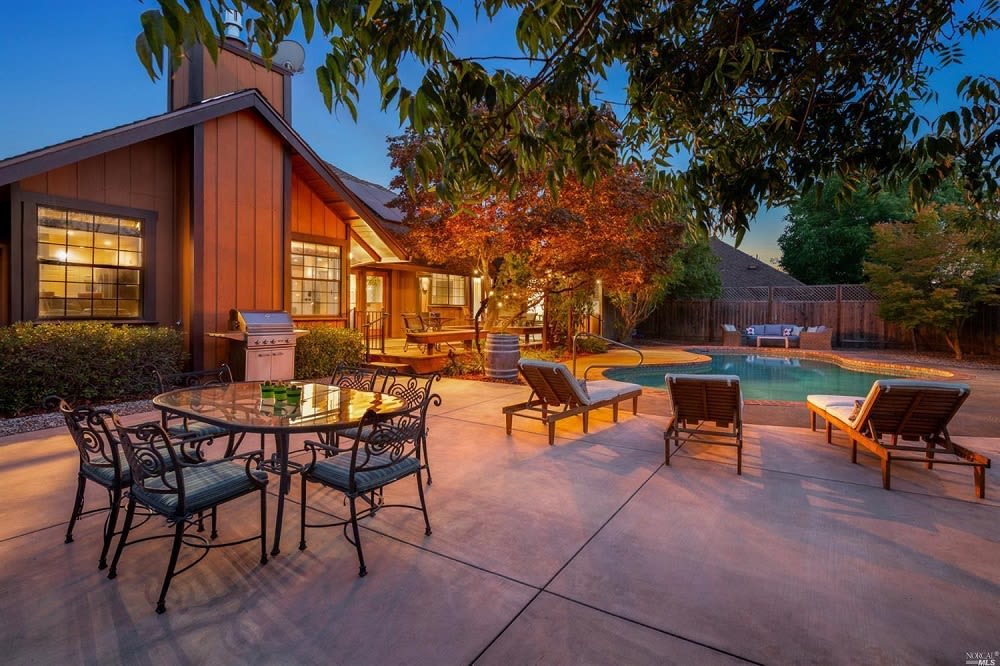 Outdoor spaces


Adding an outdoor kitchen adds style and valuable square footage to your Sonoma Valley home. Aside from the beautiful views of orchards, vineyards, and the rolling hillsides of Sonoma Valley, outdoor spaces provide entertainment opportunities and spaces to unwind. As a result, outdoor kitchens are in high demand among Sonoma Valley homes for sale.

Another way to improve the value of your home is to increase the number of usable outdoor spaces. If you have a nice shady area in the backyard, add a bench or some comfortable seating to create a conversation area and take advantage of the space.
Inspect and repair
Before you list your Sonoma home for sale, get as much handiwork done around the house as possible. Assume that closing inspections will reveal any flaws to potential buyers and that repairs will pay for themselves in the form of a higher sale price. If a major repair is needed in the kitchen or bathroom, buyers will likely demand the homeowner fix it before closing (or they will buy a different property). When a home's kitchen or bathroom is out of service for a
remodel
, it disrupts daily life much more than other areas of the home.
To be safe, all minor repairs, regardless of which room they are in, should be completed prior to listing. When homebuyers see a property in need of minor repairs, they will often assume that basic maintenance of the property has been neglected. This increases the worry that the property is likely to have unseen issues that may need expensive repairs—and even if they love the location—buyers will be hesitant to make a high offer if they sense a home hasn't been well maintained.
As such, you should inspect and repair every corner of your Sonoma Valley home prior to listing it for sale.
Upgrade every opportunity to sell


Any home remodeling project runs the risk of spiraling into a bigger project than you intended. Keep your goal in mind and keep your budget in check. Consulting with an experienced local realtor can help you identify projects that will increase your ROI by standing out in the local market without spoiling your budget. If you're looking for Sonoma Valley real estate to flip, a realtor who's experienced with investment properties will help you identify the best real estate to earn a high ROI upon selling.
Kathleen Leonard's
team of Sonoma realtors has deep experience finding buyers and sellers the best properties to fit their needs. Kathleen and her team are ready to answer all your questions about which updates render the best ROI for sellers, and how to take full advantage of Sonoma Valley's hot real estate market. Whether you're buying or selling in Sonoma County,
contact Kathleen today
!